About
Fire Fighting Certification
---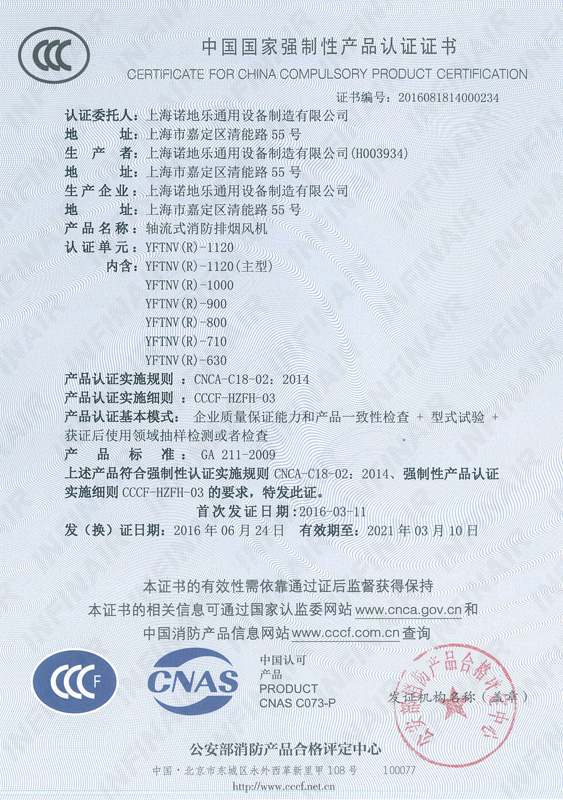 Fire fighting fan should ensure its conventional performance conform to relevant national standard requirements, and have test report issued by institute with testing qualification. In addition, the fire fight fan must be inspected by nationally recognized fire safety testing organization according to GA 211-2009 High Temperature Resistance Test Method of Smoke Extraction Fan, the fan must be able to continuously work for more than 30 minutes at medium temperature in main air duct of 280℃, ensure the high temperature resistance performance meet standard requirements, and provide test report issued by institute with test qualification.
Fire fighting and smoke extraction:
-- It is best to choose fan which has obtained national fire fighting certification. RTC, ISQ, YFICK, YFIAM, IAS and IMX etc of INFINAIR have all passed national fire fighting and smoke extraction certification and can continuously work for 30 minutes at temperature of 280℃, they can be used for smoke extraction. All these products can use double speed motor, are featured of smaller power usually, lower rotate speed, lower noise and smaller power consumption, can be used as normal exhaust fan; in special situation, the motor can be transferred to other motor, increase power, increase rotate speed, increase air volume and static pressure, and thus remove smoke quickly.